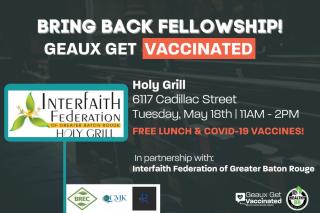 Vaccines at Holy Grill, May 25th
Vaccines at Holy Grill on Tuesday, May 25th!
The COVID-19 vaccination event postponed due to the massive rains in the Baton Rouge metro area last week, will now take place on Tuesday, May 25th from 11 am - 2pm. Holy Grill will be open during that time so you can grab a delicious, free lunch and get vaccinated at no charge all at one stop! We hope to see you there!